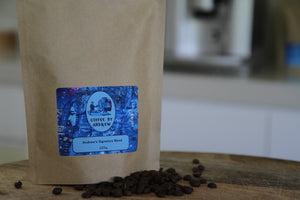 Have a bag of Coffee delivered as frequently as you want, weekly, monthly or ongoing! We'd love to continue to supply you with beans so you'll never run out of fresh stock.
Save 10% for the first 3 orders, and then 20% for each order after that!
Available in 250g, 500g or 1kg bags.
In order to only send you the freshest stock, we will freshly roast your coffee each Monday and then dispatch it on a Tuesday. We want you to have the freshest quality product sitting in your kitchen!
Choose to either have Andrew's Signature Blend delivered each time or Roaster's Choice. This option allows you to receive coffee from all over the world. Columbia, Cuban, Ethiopian, Guatemalan - we have over 14 single origins on hand which we will mix and match for you.
T&C's - We require a minimum of 3 orders to be fulfilled before possible cancelation.
Leave the quantity as 1 please.